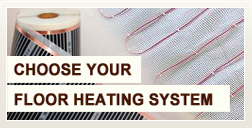 Special applications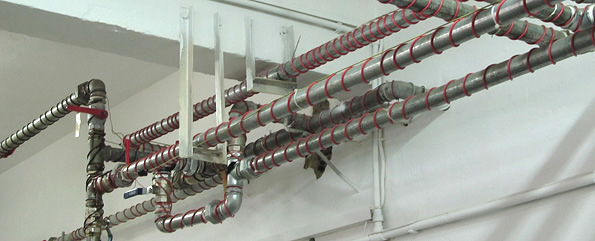 Description
The modern technologies in the last few years have helped us create cables with very good parameters – wide temperature range, UV resistance, reliability etc. Such heating cables can be used for variety of applications in our homes and for the industry. Our new Zero EMF cables cover all these requirements – double heating core, powered from one end only, zero magnetic fields, tough high temperature resistant insulation. Here are some of the applications we have experience with:

Industrial applications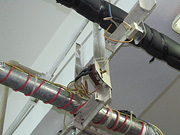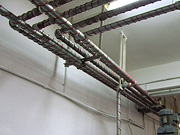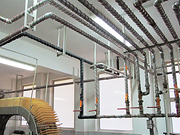 We have many successful installations in the food industries – maintaining fluid temperature in pipes etc. The cables can be installed with or without heating insulation – depending on the required temperature for the pipe. The thermostat used here has a bending sensor which is glued on the pipe between the heating cables.

Defrosting streets and outside areas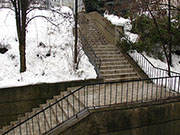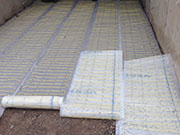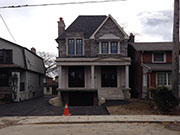 The main requirement here is for the cables to be powerful so they can reach higher temperature and melt the snow even in severe cold. You can see a photo of a stairs defrosted like that. Thermostat is not required here. You can turn it on and off with a simple switch when needed.
More information about melting snow can be found in the gallery "Special systems for defrosting"

Defrosting drain pipes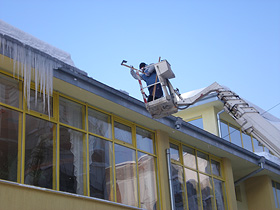 The main requirement for the cables is high working temperature and UV resistance. Thermostat is not required here. The system can be used with a simple switch when needed.

Defrosting all kinds of pipes in the outside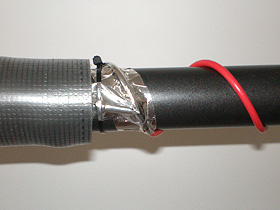 The insulation here is mandatory for an efficient system that can maintain the required temperature even in the coldest weather. Using a reliable thermostat is recommended.
Defrosting satellite dishes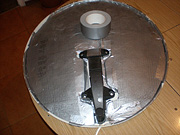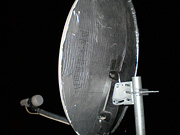 Very common usage. This is very quick and easy way to melt the snow and ice from the satellite dish. You don't need to go to the roof anymore. You don't need a thermostat – just turn it on and off when needed. The cable is glued to the satellite dish as on the photo. After that aluminum tape is used for better heat distribution and then heating insulation for better efficiency.

Protecting a tank from frosting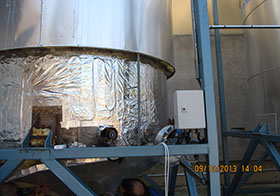 Very successful system which is working flawlessly and kept the tank from frosting since 2010 even in severe cold (-20C). More information about this installation can be found in the gallery Heating pipes and tanks

Heating vending machines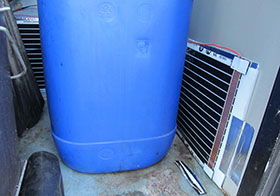 Very important application especially for coffee machines that work in the open. It keeps the machine from frosting during the winter with a minimum energy spent. Usually self regulating cables and carbon heating film are used.

Self regulating heating cables (heating trace)
Self-regulating heating cable
also known as heating trace is a new product.. Some of its advantages are the self temperature control, the automatic output power adapts to the heating system without any other auxiliary equipment. It can be used in any lengths within a fixed range. It won't have high temperature spots or flame when you cross it. The self regulating heating cables is sold in rolls prepared for installation in different lengths according to the specific needs of the customer.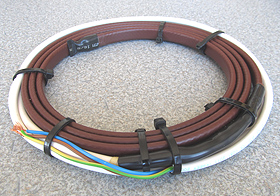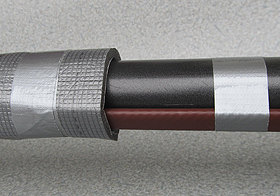 We are offering 3 types of self regulating cables with different power per meter (measured at 10C/50F)
- 10W/m (at 10С / 50F) – working temperature of 40-45С (104-113F)
- 35W/m (at 10С / 50F) – working temperature of 55-60С (131-140F)
- 60W/m (at 10С / 50F) – working temperature of 75-80С (167-176F)




Using strong self regulating cables for defrosting snow, installed in pipes under the tiles.
Defrosting photovoltaic systems – new and very perspective application.
Heating dove cages, reptile cages etc. The carbon film is cut according to the cage and can be used in dry cages – for snakes, lizards etc.
The projects in this section are individual that's why here you can see just the more popular application. We will be glad to help you find the best solution for you.