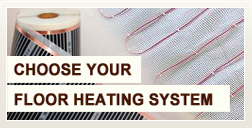 Cable floor heating
Usage
The cable floor heating has a wide variety of applications. The primary elements here are the heating cables which are always embedded in the upper cement layer of the floor. On top of this cement layer you can glue the flooring – tiles, marble, carpeting, linoleum and many more. It can be used for dry and humid premises. With some special heating cables it is possible to use cable heating systems for wooden and laminate floors but this is not the optimal solution. For such floors you can check the Carbon heating film.
Floor construction
Standard floor construction on top of wooden /plywood floor
Standard floor construction on top of concrete floor
Comment:
Heating cable is 1/6inch /4mm/ thick. Cement thunset is about 1/3inch - 2/3inch/8-15 mm/. The heating insulation is mandatory if the floor is on the outside or if the heated room is over a non heated area. On top of wooden or plywood floors it is not required.
More information about the floor construction can be found in the gallery "Installing tiles on top of heating cables

Heating cables
Special cables, with two layers high quality heat resistant insulation and heat conductor, which have proven their quality and reliability with the years. The correct choice of heating cables should provide the required power according to the table:
For primary heating source in cold weather
15-16 W/ sq.ft
150-160 W/sq.m
For primary heating source in mild weather
or for secondary heating source
12-14 W/sq.ft
120-140 W/sq.m
For feet comfort only
10-12 W/ sq.ft
100-120 W/sq.m
We use two kinds of cables which differ in their construction and application.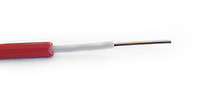 Regular heating cables
– simple and cheap but very reliable cables which we used in our first installation back in 1991. They don't have a metal screen between the two insulation layers. The cables are powered from both ends. They can be used on cement floorings in dry areas.
Zero EMF shielded cables
– modern cables made with the newest technologies complying with all the health and ecology regulations around the world. The special construction of these cables guarantees no magnetic fields at all. They are powered from one end. They are used for all kinds of premises including bathrooms and other humid rooms.
The cables that we use are 5-6W/ft (17-18W/m). They are sold in rolls with prepared cold ends - ready for installation. Every cable has a specific length and power.
Installation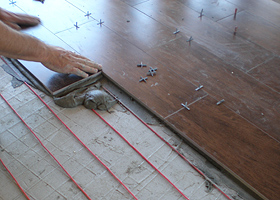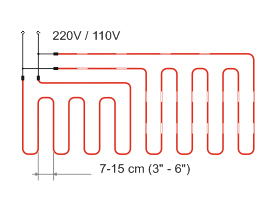 Heating cables are installed in a cement layer under the floor covering. They are arranged at 3-6" distance (7-15cm). Several cables can be used in the same room connected parallel to the power supply (thermostat)
More information about installing heating mats can be found in the gallery "Heating cables"
1
,
2
,
3
"
Heating mats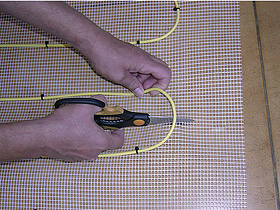 These are heating cables arranged on a mesh for easier and quicker installation. All the installation requirements for the heating cables are the same for the heating mats. The mesh can be cut so the mat can change direction but not the cable. These heating mats come in predefined sizes and also can be made per request. Several mats can be used in the same room connected parallel to the power supply (thermostat).
More information about installing heating mats can be found in the gallery "Heating mats
1
,
2
,
3
"
Thermostats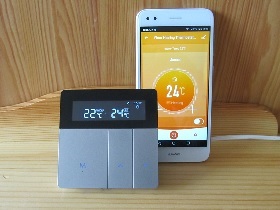 These are an important part of the floor heating system. This is required for the optimum heat in the room with the most efficient work regime. A precise thermostat doesn't allow any energy loss. We use multifunctional WiFi digital programmable thermostats with air and floor sensors and degrees in F and C. All thermostats come with an external floor sensor, a manual and a mounting box for the wall. You can read more about thermostats in the Products section
All the requirements for installing a cable heating system are explained in the Installation guide. There is also a useful practical presentation for cable floor heating installation which can guide you through the installation process. For choosing heating cables you can use the Online Form, the tables in our Products section or you can contact us. All the materials can be found in our online store.